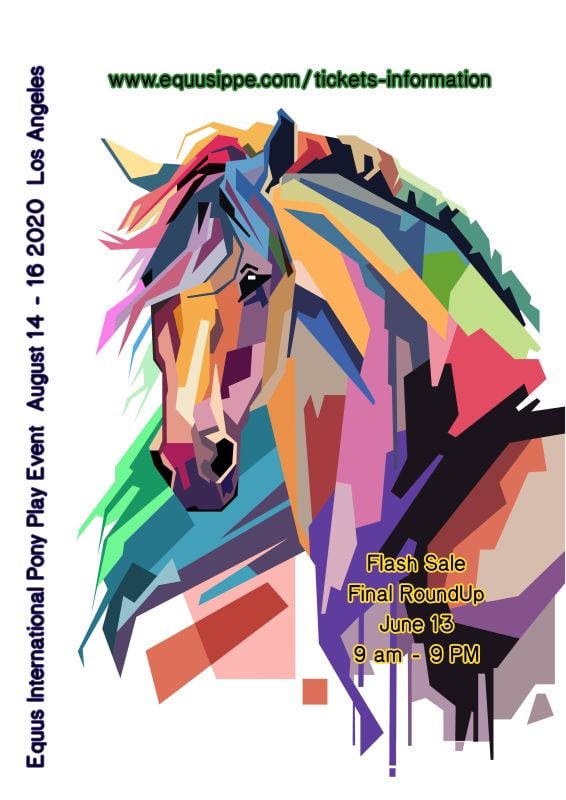 Happy Pride Month! Marks your calendars for a flash sale this coming weekend, and buy discount EQUUS tickets here: https://www.eventbrite.com/e/equus-international-pony-play-event-tickets-84458131545
COVID-19 Pre-cautions in Place for Equus IPPE 2020:

Due to Covid-19 safety concerns, this event has been logistically created differently than any other Equus IPPE.

Our event has 4050 square feet of ballroom space with 12' ceilings.

A map was created to give each team or single Pony private space (4′ x 4′) with 6' between each space and walking path space to the event arena. As folks have registered these spaces have been assigned.

The outer corral is 30' x 60', the inner corral 20' x 40'. Only one team at a time enters per game run and all touched surfaces (except the floor) are cleaned in between participants.

There are 2 Pony Stations to tie off your Ponies. This is valuable if you have more than one to take into the ring or if there are Single Ponies waiting for the House Handler. One Pony per Station.

Social Distances are established and marked. There is an enforced limited number of possible attendees for safety.

Upon check-in you will be given a reversible filter mask made by Sarge (IMsl2015, our Estrella Pony).

Gloves will be available in S – M- L – XL sizes.

The Pony Carts will be cleaned after each use.

As always, we want you to have fun and be safe.