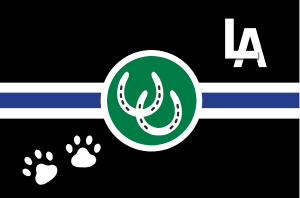 The Los Angeles Pony and Critter Club is an adult role-playing group based in Los Angeles, California. We are an enthusiastic group of individuals dedicated to exploring the realm of pony, puppy, kitten, bunny and all other critter role-play scenarios. There may be adult themes in the website with reference to Pony and Critter cosplay in sports activities. We have permission to use all photographs on the site.
The L.A.P.C.C was started in February 2009 by Submissann (joint winner with Rebecca Wilcox of the 2009 Pony and Trainer Leather title), and currently has over 200 members. We have regular play dates (for a chance to practice our role play), planning meetings (for business), socials ( for chatting and mingling), and events throughout the year, such as the Long Distance Cart Race, Derby Day, Western Day, English Day, Puppypalooza, and The Southern California Fox Hunts (Spring and Fall).
All pony and critters are welcome in the club as well as trainers and handlers. The diversity of the club enables us to exchange ideas and possibilities and to be welcoming to all individuals regardless of their level of involvement or interest levels. We have some unowned critters and trainers looking for their pets and we aim for all critters and trainers to get some experience in their role, so even if you do not have an owner or a pet, you are very welcome in our club.
For information on our upcoming events, please check the calendar or blog, which updates weekly.
Please contact us if you are interested in any of our events, in the club, or if you have any suggestions for us!
Thanks for visiting our site, and remember, no dog or pony is ever too old to learn new tricks!