This is it – your VERY LAST CHANCE to get tickets for EQUUS! Buy them here, or forever hold your peace… EQUUS is this weekend!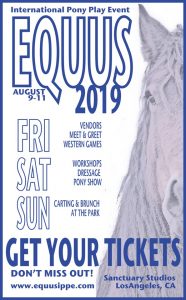 In addition to hosting the North American Pony/Trainer Contest for the 2020 North American Pony/Trainer Title, we have many, many wonderful events with prizes to be earned, such as ribbons, plates, and belt buckles.
Our judges include Noishe, the 2018 Grand Champion winner for EQUUS, Honydove, the 2018 High Point Award and Pony Spirit award winner. We are honored to have them!