Looking for some cool summer events?
If you're a pup, consider a puppy pool party!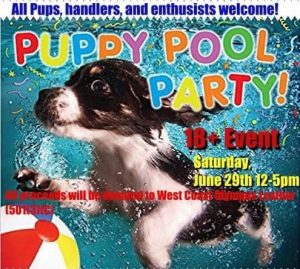 Saturday, June 29th, in Palm Springs, there's a MASSIVE puppy pool party. $25 includes lunch and an open bar. This is an all-gender and clothing optional party… do hoods and tails count as clothes?! Who knows! Buy your tickets here and find out.
For critters of all sorts, the SoCal Creatures are having an INDOOR mosh. $25 for an indoor space and potluck lunch. Tickets are VERY limited so grab yours ASAP by clicking here.