Although several of our members will be spending mid-April at the Ms. International Leather and Boot Black event, we are still having our biannual fox hunt!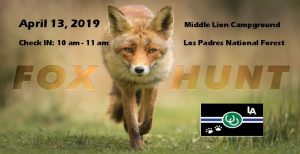 The Spring Fox Hunt is Saturday, April 13th, with an 10 am check-in The hunt begins at 11 am sharp.
The Fox Hunt is at Middle Lion Camp Site, elevation 3160 m. It has developed campground, with restrooms, campfire sites, tent camping, space for rv/camping trailers, Trailhead, Hiking Trails, horse trails, mountain bike trails, fishing (you must have a license). You can drive right up to your campsite or park for the event.
People who want to camp, it is advised you arrive early (Thursday or Friday) to snag up a camping spot.
Directions:
Basically you take the 101 to the 33 north to a right on Rose Valley Road to a right on Middle Lion Campground. Now isn't that easy?
More specific: Directions to MiddleLion from the 101 Freeway take the 33 North. Follow Highway 33 north of Ojai for 14.7 miles to the Rose Valley Road turnoff (6N31) which is at mile marker 25.84. Turn right and follow the paved road 4.8 miles. Turn right and go 0.8 miles to Middle Lion Campground. The elevation is 3250 feet. Watch out for the rough sections of road!
The Middle Lion Campground is no longer an Adventure Pass campground. This site is managed by the Parks Management for the Forest Service. $20/night for camping, $10 per vehicle. Day use fee (within the campground) is $10 per vehicle or you can purchase and use the Parks Management Pass for $50 (day use only). Pass can be purchased through the Parks Management Company 805-434-1996 or www.campone.com
We start the Hunt with a Toast at 11 am. We release the Foxes at 11:30 am. You must arrive on time. The check in is 10 am. Cost: $15.00 and a side dish for the Feast.
You must be in shape to be a fox, be able to run, climb for at least an hour. You will be running for your life; you will feel all the emotions. This is not for the faint of heart.
You need a "Guide" to go with you. We do not let anyone off into the National Park alone. This person needs to be as physically fit as you, if not more. This person will be marking the trail. You both can mark your trail, but the Guide is responsible for marking the trail. W will give you flags and pre-cut strips of bright plastic tape to mark your trail. You must mark the trail so we can follow it, every 30 to 50 feet where we can see the next tag from the one we find. The Guide is responsible for carrying your water. Please figure out how your Guide will carry water for you both. Bring a whistle, a loud distress whistle, incase you get lost, or fall, or have an emergency.
We are in the National Park. There is a river/creek you will be crossing (most likely). Wear shoes you have no problem getting wet in. Bring a dry pair of shoes and socks to change into if you need to. As a fox you need to think about costume change or dry clothes, feet, etc. after the Hunt. The river was depressingly low the last year we went; however it has been raining a LOT.
We cannot watch over all the Foxes. We need you to pick a very responsible person to care for you in our place. We will be distracted at times, handling event logistics and you need a dedicated person watching you.
There is no running water nor plumbing at this campsite, nor electricity, internet access, or phone service. If you have an issue with this, this is not the event for you. You must bring ALL your water and you must contribute to leaving the campsite in better shape than we found it. Like good girl and boy scouts. 🙂