If you live in southern California, then you have been braving torrential rain and an unusual cold snap.
Never fear… it shouldn't last long! We trust that we will have our usual warm, sunny, clear weather back again in time for the… BIANNUAL FOX HUNT!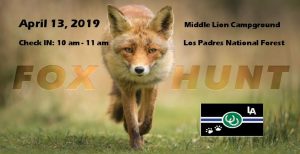 We are expecting a larger-than-average turnout this year thanks to early promotion at Puppypalooza, and are very excited, because we truly believe "the more the merrier!" We welcome handlers, puppies, ponies… and of course, foxes. We have a limited amount of space for foxes so if you are interested in being a fox, please contact us ahead of time!
We hope to have a munch / dinner social before the fox hunt, so stay tuned for more information.