Many of us are inspired by our own bio-pets!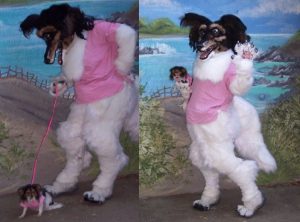 (Some of us are more inspired than others!)
The LAPCC has been a non-profit club for over a year now, and we are proud to support NKLA and the ASPCA with some of our bigger events. That's why Puppypalooza, this Saturday, is a fundraiser for the ASPCA. All our proceeds will go to help bio-pets. This is your last week to buy tickets online for $15 (click here). If you prefer to pay cash at the door, it will be $20. We're hoping for this to be one of our bigger events this year so please show your support as a pet, handler, or spectator. Rain or shine, we'll have a great time!