If you're a competitive pony or a competitive pup, and you love winning ribbons, then the next couple of weeks are going to be exciting for you!
This weekend is our Sin in the City Dog and Pony show!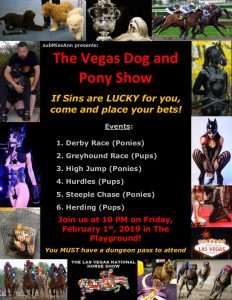 And the weekend after that is Puppypalooza!
If you're a shy pet and you don't like to perform or compete, that's okay. Our February playdate is on the 16th, the week after Puppypalooza, and this is a low-key, calm place where pets and ponies can run around in an unstructured environment.
Whatever type of pet play you like, we will make a space for you. The Los Angeles Pony and Critter Club welcomes all sexual orientations, gender identities, ages (18+), ethnicities and nationalities, physical abilities, and religious and political affiliations. We celebrate our diversity and we are stronger for it.