Alright, everyone, it's November, and you know what that means… it's time for the Los Angeles Pup title contest!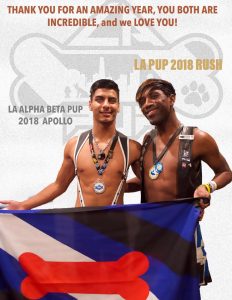 Last year's winners were Rush and Apollo.
This year's contestants include: Apollo, Faun, Flip, Indyana Bonez (last year's Puppypalooza Best in Show winner!), Pepper (a longtime LAPCC member!), Rex, and Spro!
Come meet them (if you haven't already) at the Meet n' Greet at the Bullet Bar. Come cheer them on at the LA Pup Contest. (Buy your tickets early here, as this event is expected to sell out!) Come congratulate the winner at the victory party at the Eagle on Santa Monica!
Don't worry, ponies, we haven't forgotten about you. Our November playdate is on the 17th, from 1 – 4 pm. This is a great opportunity to prance out in the open. Also, Trevor the photographer will be there to take ponies' photos (if they wish; this is free and optional). We hope to see you there!