If you haven't gotten your tickets yet, get them before it's too late! EQUUS is coming up soon. Buy yours here.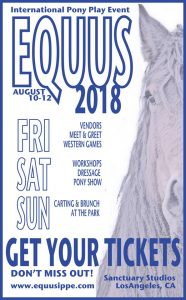 We have only one playdate before EQUUS so if you'd like to come out to train or socialize, come on out! Please note that we are having filmmakers at the August playdate, so if you do not want to be on camera, exercise caution. There is more information about the filming in our last blog post.
Hope to see you at EQUUS! It's going to be a fabulous time!