This weekend is another pony show. If you missed Derby Day, don't despair; there are still ribbons to be won this Saturday!
The Copper Award goes to the Outstanding Trainer/Handler, the most promising new Pony receives the Horseshoe, the best Sportsmanship folk is honored, and every participant is a winner with a medallion.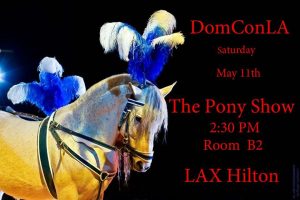 CLICK HERE TO BUY DOMCON LA TICKETS.
Not a pony? Not a problem! There is also a pet show just before the pony show, at 12:30 pm, in the same room. Back-to-back pony and critter shows?! What could be better!