CONGRATULATIONS to LA Pup 2019: pup Pepper (aka Tony Bark!)
It was a very close contest but Pepper brought home the title of LA Pup. Pup Apollo will be serving as Alpha-Beta, and pup Flip is the second runner-up.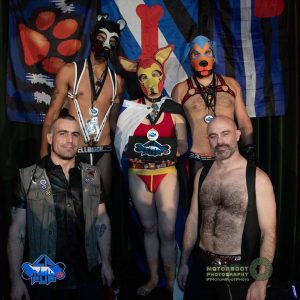 (Top: Apollo, Pepper, and Flip. Bottom: Matthew (pup Ashtray) and Dan, the producers.)
Congratulations to all of the puppies who competed for the title, and thank you to all of the judges, coordinators, producers, sponsors, donors, and volunteers who made LA Pup Pride weekend a huge success! You can see more photos and videos of Pepper's run on our Facebook page, which has all of our most up-to-date info!